Evolution U Coaching
When the Walls Come Tumbling Down!
I can't lie. I am sitting here at my desk feeling a bit like a hypocrite. It was this time last week that I was writing to you about the lessons I learned about myself on my Whole30 journey. In the blog, I shared how I was really thriving on the food protocol outlined in the Whole30; that is was in the food protocol that I discovered freedom.
Fast forward to today and I want to share with you that this past weekend the walls of my Whole30 came tumbling down. It wasn't something that just happened in a moment. You know those action movies where someone is hanging onto a rope and you start to see the rope come unraveled? It was just like that.
As last week's blog was being published and read by you I was on my way home from a networking event when I had all but convinced myself that my goal of the Whole30 had been met. I rationalized that it would be perfectly okay for me to quit. I told myself that it was no longer serving me. I came home, grabbed a few Cuties (those wonderful little oranges), and read day 10-11 in the Whole30 book. In an instant, I was feeling better and recommitted to staying in the game. Or, so I thought.
You know when you have that nagging feeling. It just continues to nag at you and you can't shake it. Yep, that was me. I couldn't shake that feeling. I reread my journal and tried to anchor myself back to my compelling reason for doing the Whole30. I tried to connect that "feeling" I had when I decided I was going to do it. I did everything I could think of to stay connected. I thought I was going to be okay.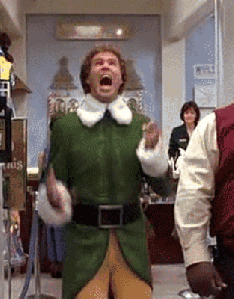 Then a slightly intense life conversation and some miscommunications and BAM!!! I was hit with a whole lot of feelings that I thought I had dealt with. My coach warned me that doing the Whole30 would bring up a lot of stuff. I shouldn't have been blindsided by this. It happened the last time I went through it.
Only this time, it was like it all came unglued at once. I found myself struggling to communicate what was happening much less how I was feeling. It was frustrating. I was frustrated. I held on Saturday but by Sunday I was tired, frustrated, hungry, and I had no food plan. And like that, it was over. I ended it by enjoying a few peanut butter and jelly crackers. After I finished the crackers, I literally felt like all was right in my world. (LOL!!!)
I struggled sharing all of this with you. I was already working on this week's blog when the events of my weekend unfolded. I could have easily just brush past what happened. Kept it a secret and pretended like it didn't happen. You wouldn't know. But I knew. I couldn't allow myself to do that. It wasn't fair to me or you. Because even though the walls came tumbling down I didn't walk away empty handed.
I shared with my husband last night that it would be easy for me to feel bad, or disappointed in myself for quitting. But, I was going to choose to think about it differently.
I had a plan but life happened. Even a best laid out plan can fall through. Now what?
When I was a drill sergeant, I used to tell my privates that we don't look at what you've done, we look at how you recover from what you've done. I still believe this. It's not that your walls came tumbling down but what you did to rebuild those walls. What did you learn about yourself through the process?
The truth is, that we are all going to fail. And, we most certainly will fail more than once in our lifetime. Do we allow that failure to derail us? Do we allow that failure to keep us playing small because we're embarrassed? Do we allow that failure to keep us from living a life we love and deserve?
NO!!!!
What do you do when your walls come tumbling down? What is your plan when you fail?
In the military, after every mission we would do an AAR (After Actions Report). This is when we would look at the mission and ask:
What went right?
What went wrong?
What can be improved?
I believe we can use this same format when our walls come tumbling down. We can ask ourselves;
What went right?
What went wrong?
What can I do better next time?
I know that this is what I did.
I stepped back from my situation, I looked at it from an outsider's perspective, and I asked myself those questions.
I wanted to learn and grow from my experience. Because next time, yes, there will always be a next time, I want to be and do better. I want to take what I learned, tweak it, apply it, and see what happens.
How about you?
What do you do when your walls come tumbling down?
What is your plan when you fail?
Words of Encouragement
Life is a journey of experiences. With each experience, we have we should open ourselves up to see the lesson life is showing us. We should focus less on the failure and more on the opportunity to grow and be the best version of ourselves.
Dig Deeper
What are you going to do when something you're working on fails? How can you position yourself so that you can see the situation from an outsider's perspective? What kind of plan will you have when your walls come tumbling down?
Imagine what your life would look like if you had a plan when your walls come tumbling down. How it would feel to know that you have specific measures in place to support you in your time of need. If you're not sure what this might look like and need help creating a plan, I would love to help you. I offer a FREE one hour discovery session. Contact me to schedule yours. I would love to work with you!
If something in this post resonated with you, I would love to hear about it. Post your comments below or you can DM me on FB or Instagram or you can email me at donalisa@evolutionucoaching.com.
I would be most grateful if you shared this post with someone you think my benefit from it.
Curious to read last weeks post click here!
Make today amazing!